Programs/Services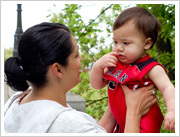 The Culture of Caring. Utilizing a strength based, holistic approach to working with families.
Michif Child and Family Services has developed a continuum of programs that focus on strengthening the capacity of families to care for their children. Many of the services are unique to our agency and have been developed as result of the innovative and thoughtful thinking of our staff teams.
All our services strive to be family focused and responsive to the individual needs of each family. They all incorporate inclusive strength-based practice and respect the cultural practices of our families. Our programs strengthen families, enhance family functioning and maintain family connectedness.
For more information about the programs and services listed, please contact the Michif Child and Family Services office in your region.